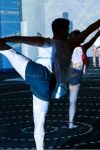 In-Finite Space: Part II
- The Cage at The Vault Festival
Preis ab € 28.70
A contemporary performance tells the story of the entire universe – and as everybody knows, it all revolves around YOU! Take charge with Twitter (#InfiniteReach) as we travel the cosmos together; add your creative thoughts like shooting stars across IJAD's constellation and experience the terrifying vastness and cataclysmic expanse of The Everything. As IJAD performers present the magnitude of the cosmos, will you join us to add the human touch? Use #InfiniteReach to mark your existence in space and time. Interact with our Questions @IJADdance and watch as your tweets inspire our work over the coming months, weeks, days, hours, seconds, heartbeats… and during the show before your very eyeballs. We will take your oxygen away until your chest hurts and you leave with a tingling reminder of our interconnectedness. Enjoy.
Veranstaltungsort-Info
Informationen über die Vorstellung
Buchen ab
2014-03-08
Buchen bis
2014-03-08
Dauer:
1 hour
Anfahrt

Leave Waterloo Station via Exit 1. Turn right onto Station Road Approach and keep on the right hand side of the road. Walk all the way to the bottom of the road and go down the first set of stairs you come to and turn right at the bottom of the stairs.

Karte