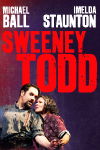 Sweeney Todd
An Adelphi Theatre
Preis ab € 111.90
Sweeney Todd , Sondheim´s musikalisches Meisterwerk, erzählt die berühmt berüchtigte Schauergeschichte des blutrünstigen Sweeney Todd, dem dämonischen Barbier der Fleet Street. Kaufen Sie Ihre Tickets für Sweeney Todd hier!

Der teuflische Barbier der Fleet Street ist wieder in London zu sehen, im The Adelphi Theatre on The Strand.

In den Hauptrollen mit Michael Ball und Imelda Staunton , in den Rollen des Benjamin Barker alias Sweeney, und seiner Komplizin und Vermieterin Mrs. Lovett. Sweeney hatte seine Premiere im Jahre 1979 und erzählt die tief tragische Gesichte des Benjamin Barker, der unschuldig angeklagt vom Richter Turpin verbannt wird. Seine Lucy Frau und Tochter Johanna kommen unter die Obhut des Richters, Lucy die vom Richter missbraucht wurde nimmt sich mit Arsen das Leben. Barker verwandelt sich in sein Alias, Sweeney Todd und schwört bittere Rache. Nach seinem Scheitern den Bösewicht zu töten verwandelt er sich zu einem blutrünstigen Serienmörder. Todd tötet seine Opfer indem er deren Kehle durchschneidet, während diese nichts ahnend in seinem Friseurstuhl sitzen. Seine Komplizin Mrs. Lovett entledigt sich der blutigen Beweise indem Sie diese zu Fleischpasteten fabriziert.
"Sweeney Todd - für Freunde des makaberen Musical Genres - "Grusical".... Meine Frau und ich hatten das grosse Vergnügen, das Musical zur Legende vom teuflischen Barbier aus der Fleet Street am Mi 13. Juni 2012 in der Abendvorstellung vom Adelphi Theatre zu sehen. Schon der Composer Stephen Sondheim sollte Garant für ein gutes Musical sein. Meine Frau und ich wurden von Anfang an in den Bann der Handlung, der Hauptdarsteller, des Ensembles, der Musik und des Orchesters gezogen. Während wir in anderen Musicals Ensembles gesehen hatten, bei denen einzelne Darsteller in punkto Qualität abfielen, war das hier bestimmt nicht der Fall. Wir waren durchwegs vom allen - Hauptdarsteller, Ensemble und Orchester - restlos begeistert. Die Hauptfigur lässt einen von Mitleid bis Abscheu alles empfinden. Nur noch soviel: Die Darstellung des Musicals ist weniger "blutrünstig" als der Film. Ueber den Pin, den wir am Schluss noch ergattern konnten, freuen wir uns. Fazit: Für Freunde des makabren Genres und des schwarzen Humors ein MUST! Absolute Top Qualität! NB: Es hat alles bestens geklappt: Booking via Internet und als wir ein paar Tage später kamen, lagen die Tickets bereit an der Abendkasse. Machen wir bestimmt wieder!"
Kipfer, Zurich
"Wir waren am Ostersamstag im Theater. Wir hatten den Kinofilm gesehen und waren gespannt auf das Musical. Unsere Erwartungen wurden weit übertroffen. Es war wirklich einmalig. Die Musicaldarsteller waren einfach toll."
Christine, Glan-Münchweiler
Sweeney Todd Rezensionen
"Thrilling. wickedly funny"
The Guardian
---
"Dark, wild and truthful. Imelda Staunton as Mrs Lovett is fabulously funny"
The Times
---
"Michael Ball. couldn't be better as this insatiable serial killer. Imelda Staunton is in show-stopping form"
The Mail on Sunday
---
Veranstaltungsort-Informationen
Informationen über die Vorstellung
Abende
Monday to Saturday 7.30pm
Matinees
Wednesday and Saturday 2.30pm
Buchen ab
2012-03-10
Buchen bis
2012-09-22
Dauer:
2 hours 45 minutes
Wegbeschreibung
Wegbeschreibung
(3mins) Head out onto the main road Strand. Cross the street where possible and go right (approx. 150 metres). The theatre is on your left.

Karte