Specials
Wir halten stets Ausschau nach den besten Angeboten für die beliebtesten Shows in London. Somit können wir Ihnen stets wettbewerbsfähige Preise für Musicals, Theater- und Opernvorstellungen sowie anderen Shows bieten. Unten finden Sie die derzeit beliebtesten Vorstellungen und Angebote in London.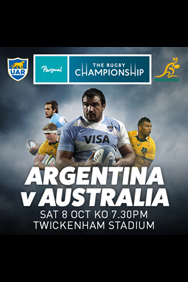 Normalpreis: € 80.70 Sie sparen: € 11.90
The Rugby Championship comes to Europe for the first time in history when Argentina and Australia play at Twickenham in London on 8 October 2016.